I just heard they're remaking this movie, though it's probably old news. I honestly hope they don't, because an American version of this movie just wouldn't have the same impact as the original did.
Has anybody else seen it?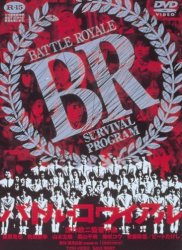 Set in an alternate modern-day Japan, where kids are running wild and are lawless, the government introduces a new law aimed to combat the violent and criminal nature of teens. The Battle Royale Act is introduced, a law that requires a single, specially chosen class of school students to be taken to a remote island and compete in a violent death-match game until only one remains. The survivor will return home as ultimate proof of how far the government is willing to go to combat juvenille delinquency.
The movie follows the story of one class full of 42 students, as they're all knocked-out and taken to a remote island at the request of a former teacher (played by Takeshi Kitano, from Merry Christmas Mr. Lawrence), who is out for revenge on the kids who tormented him. The kids all wake up with necklaces that will explode if they try to escape or try to remove them. Each is given a pack with 3 bottles of water, some bread, and a random weapon. And thus begins the battle royale.
I swear... I've never seen a scarier movie. It creeped me out beyond belief. Highly recommended.
_________________